This morning, when I first opened my eyes, I looked at the time and said "Aw, sh*t…."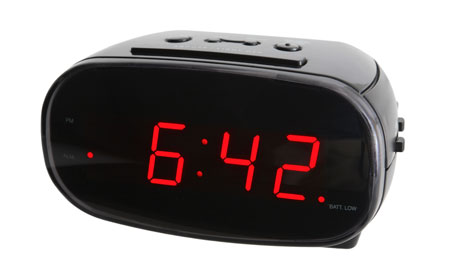 Those were the actual first words I uttered today.
Granted, it had been a particularly rough night. I had gone to bed late, and had been up once with the dog, once with a kid, and once with a disturbing dream. So I was tired, and I really didn't want to be awake. Hence, "Aw, sh*t…."
And yet, that's not necessarily so different from the way that many of my mornings start: with anxiety, or unease or worry about something I'm not looking forward to. I'm sure I'm not the only one: How many of us start almost every day feeling stressed and tired? We can't possibly be setting ourselves up for success by starting the day with negative emotions. The first event of the day sets the tone for the rest of the day. And when the first event of the day is "Aw, sh*t," we're already starting from a deficit.
That's why, starting tomorrow, I'm going to choose a different way to start my days.
When the Dalai Lama was asked how a person can cultivate happiness, he answered that it's about how you start your day:
Every day, think as you wake up, "Today I am fortunate to be alive. I have a precious human life, I am not going to waste it."
When I first read this, I found it really moving, both because it's so simple yet profound, and also because Judaism teaches something very similar. It is traditional to start your day with the following prayer:
I am grateful to You, Eternal Sovereign, for returning my soul to me. Great is your faithfulness.
Modeh ani l'fanecha, melech chai v'kayam,  shehechezarta bi nishmati b'chemla. Rabbah emunatecha.
There is a Jewish tradition that says that every night while you're sleeping, God takes your soul for safekeeping. Then, when you wake up in the morning, God returns it to your body. Hence you wake up uttering these words of thanks for the return of your soul. I don't literally believe in that story (God knows I needed my soul to deal with the dog, the kid, and the dream last night), but I love the idea of starting each day feeling grateful – for another day of life, for opportunities to learn and grow and love, for simply being alive.
So I think I'd like to take control of how I start my day. Rather than grabbing my phone and checking email, or snoozing the alarm clock, or stressing about my first meeting of the morning, I'd like to take a few deep breaths and find something to be grateful for. Sometimes that might mean saying the Modeh Ani prayer in Hebrew or English. Other times it might mean saying the Dalai Lama's affirmation. And perhaps sometimes I'll look for something specific – some blessing or person or happy event that has brought some goodness into my life. I'm positing that starting each morning with gratitude will have a positive effect on the rest of my day, and I'm willing to spend 30 seconds a day to find out.
Anybody want to try it with me?